Cybers offer an easy way for brick-and-mortar schools to receive assistance in setting up and operating their virtual classrooms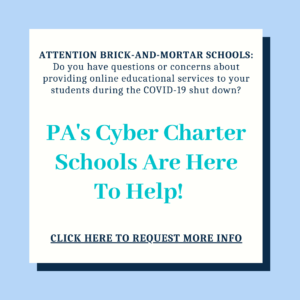 HARRISBURG – The Pennsylvania Coalition of Public Charter Schools (PCPCS) today posted a form on its website for any brick-and-mortar school (district, charter or private) seeking advice and support on offering online education to its students.
This is a quick questionnaire to assist PCPCS with matching up schools in need of help with the cyber charters that are best equipped to assist them.
"Pennsylvania's public cyber charter schools have been successfully teaching children online for more than 20 years," said Ana Meyers, PCPCS executive director. "They have the knowledge and expertise of managing comprehensive online programs and want to share it with their colleagues at brick-and-mortar schools trying to serve their students during this difficult time."
PA's public cyber charter schools educate more than 37,000 students with a wide range of educational needs in every county. They understand the logistical and financial challenges of teaching large numbers of students online, especially during the COVID-19 health situation, and they want to share this knowledge with their colleagues.
"While the relationship between school districts and charter schools has been contentious at times, the cyber charter community wants to put politics aside and work with our counterparts to do what's best for students in Pennsylvania," Meyers said. "Everyone needs to do their part to get through the current COVID-19 threat, and PA's charter schools want to be part of that solution."
Any PA district, brick-and-mortar charter or private school that would like to connect with a public cyber charter school to discuss resources, best practices or professional development can fill out the questionnaire to be properly matched with a cyber that can meet its needs.
"PCPCS provided this form to the PA Department of Education this morning and once again offered PA's cyber charter schools as a resource. This is a genuine offer to help and, to our knowledge, no other state's cyber charter schools are extending this type of assistance. To ensure that this is not misconstrued in any way, we are promising that no charter school logos, branding or advertisements will be used in any partnership or resources provided," Meyers said.
Last week, PA's 14 public cyber charter schools sent a letter to the state Department of Education offering their services to schools in need. The letter noted that the COVID-19 situation is rapidly evolving. The cyber schools offered to work with "our public school colleagues to develop and implement opportunities to learn best practices in the area of cyber education, which will allow for the continuation of schooling for students of all ages and academic abilities."
"We are all in this together. It is our hope that schools – district, charter and private – join together to find solutions to help students during this crisis," Meyers said.
For more information or to schedule an interview with a charter school official or family, please contact Jessica Hickernell at j.hickernell@pacharters.org or 717-371-8155.
###