PCPCS is thrilled to be able to continue to offer our community of supporters a comprehensive slate of programming offering opportunities to connect, learn, and celebrate! Our educational and networking offerings convene leaders from business, academia, and government to consider trends and topics reflective of the challenges, opportunities, and solutions in today's educational landscape. Mark your calendar to join us at these events!
THE INNOVATION STRAND IS VIRTUAL FOR 2020!
Since our in-person annual conference was cancelled this year, PCPCS is proud to announcethat  the Innovation Conference will be online for the 2020-21 School Year! Join Innovative Educators from across the public school community as they share their best practices. PCPCS is committed to nurturing innovative educational practices that enhance educational opportunities for all students. And, we are driven by the foundation of charter school law that emphasizes "that Charter Schools will serve as laboratories of innovation on behalf of all Pennsylvania students."
The 2020-21 Innovation Conference highlights the most innovative educational practices in both a concise and implementable structure. Each presentation will have a 20 minute time slot. Within that 20 minutes there will a 12 minute presentation followed by Q&A.
The conference will take place Thursday, October 22 starting 8:00AM! The event will last all day and you can drop in and out as your schedule allows.
A Zoom link will be provided upon registration. Please feel free to attend any or even all of the included sessions. A complete agenda can be found here.
Attendance is free but donations are appreciated!
Questions? Please contact Brandie Karpew or Doug Wessels.
Click here to Register for the Innovation Conference!
The Innovation Conference is proudly sponsored by: 
LAST CHANCE IN 2020!
In partnership with Charter Choices and the attorneys that are members of our Legal Advisory Council, the Pennsylvania Coalition of Public Charter Schools (PCPCS) is hosting this training VIRTUALLY so that we may be directly involved in the accountability and success of all Pennsylvania charter schools.
The training is free of cost for PCPCS members. There will be a $80 per person cost for non-PCPCS members to attend. If a school would like to have an on-site training, the cost is $500 for 2 hours or $1,000 for 4 hours.
If you are unsure if your school is a PCPCS member or not, please contact Brandie Karpew.
This event will take place Wednesday, October 21, 2020, from 9:00 AM to 1:30 PM.
A ZOOM link will be provided in your registration confirmation.
Click here for more information and to register for ACT 55 Board Training.
Thursday, October 8th at 11:00 AM
Does Your Reading Program Have Enough Flex?
Presented by: Reading Plus
We know. 2020 has been a challenging year. We've all had to adapt to the societal changes that have resulted from COVID-19 and we'll most likely have to continue to adapt throughout the school year as new information about COVID-19 emerges. Is your reading program flexible enough to give you the results you need? Does it offer teachers a quick and efficient way to assess their students at any point in time? Does it allow for personalized instruction—anywhere—so that students can learn from home and school? Does it offer a level of engagement that will keep students focused and on task, regardless of what challenges they encounter at home and at school?
Join us to learn more about Reading Plus, an adaptive literacy program proven to help students achieve 2.5 years of growth in just 60 hours of personalized instruction. Reading Plus has been i
mplemented by 200 charter schools in 27 states, serving 50,000 students.
"Agora has looked for a reading supplemental program to meet the needs of middle and high school students for years. After reviewing students' success using Reading Plus with a pilot group of high school students, we expanded this exemplary program across all students in grades 6-12 as our benchmarking tool and supplemental program to support intervention and enrichment instruction. Reading Plus is engaging for students, provides teachers with meaningful resources to support differentiated instruction, and has tools to promote student accountability."  
Lauren Wilson, Literacy Coordinator, Agora Cyber Charter School
Click here for more information and to register for Does Your Reading Program Have Enough Flex?
Tuesday, October 13th at 1:00 PM
The Equity Audit and Closing Opportunity Gaps
Presented by: Dr. Ebony Green; The Institute for Student Achievement
School leaders are charged with ensuring that instruction, policy, practice, and culture work to support the success of all students. Yet, frequently, data show that sub-populations of students continue to struggle. In this session, we will unpack the ways in which school leaders can review their current practices and procedures to ensure that all students are receiving equitable support and resources. We will review the process of conducting an equity audit to ascertain current opportunity gaps as well as how to develop an equity agenda that comprehensively supports underperforming student groups and increases student achievement. There's the potential for equity audits to be all-consuming for schools to undertake, if they address multiple areas, such as instruction, curriculum, human capital, professional development, etc. This session will work to simplify the process for schools; school leaders will identify those areas that are most critical and develop a process for working through each area, before moving on to the next (if necessary). Equally important is the movement from audit to equity agenda – of putting into action what was uncovered. Ideally, this equity agenda is embedded within the school's strategic or improvement plan and becomes part of the day-to-day for the school leader and her colleagues.This session will also address the cyclical nature of this work – of the need to regularly reassess progress of an equity agenda, to conduct new audits that identify new data to be collected, and to identify new action steps from the audit and data collected.
Click here for more information and to register for The Equity Audit and Closing Opportunity Gaps.
Thursday, October 29th 11:00 AM to 1:00 PM
Attaining Scale Without Sacrificing Quality
Presented by: Benjamin Feit, J.D, Senior Associate, Program and Policy, Community Training and Assistance Center (CTAC)
This session can be taken to fulfill the advanced, two-hour training required by Act 55 for experienced board members! If you have any questions about the requirement, contact Brandie Karpew.
Mission imperatives, budgetary demands, operational realities, and political pressures routinely compel successful charter operators to scale their proven models. Too frequently, however, operators struggle to maintain quality as they grow. As operators attempt to reconcile fidelity of implementation with responsiveness to shifting circumstances, they risk diluting the efficacy of their existing programming and diminishing the overall caliber of a community's educational landscape. In this interactive session, participants will explore the competing considerations that operators face when contemplating growth and will develop a critical understanding of how research can inform efforts to meet demand without compromising quality.
Click here for more information and to register for Attaining Scale Without Sacrificing Quality
Friday, October 30th 10:30 AM to 12:00 PM
Reimagining the Learning Experience Where Black Minds Matters
Presented by: The State of Black Learning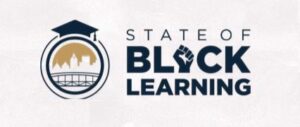 Historically, education has been seen as a 'one size fits all' system for students. Research shows this is not the case with Black students. Whether considering a child's home life or integrating a learning strategy to enhance student engagement, it is essential to hone in on the ways in which educators interact with and teach Black students. The State of Black Learning (SBL), instituted in 2018, is designed to increase educator effectiveness and provide the tools necessary to help participants address all of the factors that improve student outcomes and help Black children learn.
PCPCS is proud to join with SBL to present this session. The aim is to use insightful analysis, commentary, and facilitated dialogue on best practices to help  participants critically discuss how systemic inequities in race, gender, and socioeconomic status continue to shape and impact learning for Black children.
It is our hope this shared wisdom and experience will provide insight and serve as a reference to others who are working to ensure all Black students receive a high quality education within a supportive and caring learning environment.
Click here for more information and to register for Reimagining the Learning Experience Where Black Minds Matters
Thursday, Nov 12th 1:00 PM
Coming to America: The EL Experience in the 21st Century
Presented by: Patricia A. Hennessy, Esquire, Conrad O'Brien
Since 1974 and the United States Supreme Court decision in Lau v. Nichols, public educators should understand that EL students if they cannot understand what is being taught – are not being provided with an equal education. Presenters will discuss the how and whys of true and successful implementation – equality means meaningful engagement and interventions which includes culturally responsive measures, socio-emotional supports, along with acquisition goals across all academic subjects. There will also be a discussion regarding the provision of equity with the EL population in a cyber environment. Presenters will provide participants with the legal framework which informs compliance with EL mandates including Office of Civil Rights guidances, the Equal Educational Opportunity Act, Title III, the Every Student Succeeds Act, etc. Finally, the presenters will discuss how the ever-evolving dialogue on immigration EL students and their families in terms of adverse consequences and how schools can be student-centered in terms of resources and response.
Click here for more information and to register for Coming to America: The EL Experience in the 21st Century.