PCPCS is thrilled to be able to continue to offer our community of supporters a comprehensive slate of programming offering opportunities to connect, learn, and celebrate! Our educational and networking offerings convene leaders from business, academia, and government to consider trends and topics reflective of the challenges, opportunities, and solutions in today's educational landscape. Mark your calendar to join us at these events!
RECORDING NOW AVAILABLE!
Friday, October 30th 10:30 AM to 12:00 PM
Reimagining the Learning Experience Where Black Minds Matters
Presented by: The State of Black Learning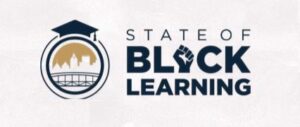 Historically, education has been seen as a 'one size fits all' system for students. Research shows this is not the case with Black students. Whether considering a child's home life or integrating a learning strategy to enhance student engagement, it is essential to hone in on the ways in which educators interact with and teach Black students. The State of Black Learning (SBL), instituted in 2018, is designed to increase educator effectiveness and provide the tools necessary to help participants address all of the factors that improve student outcomes and help Black children learn.
PCPCS is proud to join with SBL to present this session. The aim is to use insightful analysis, commentary, and facilitated dialogue on best practices to help  participants critically discuss how systemic inequities in race, gender, and socioeconomic status continue to shape and impact learning for Black children.
It is our hope this shared wisdom and experience will provide insight and serve as a reference to others who are working to ensure all Black students receive a high quality education within a supportive and caring learning environment.
Click here to view a recording of Reimagining the Learning Experience Where Black Minds Matters
RECORDING NOW AVAILABLE!
Thursday, Nov 12th 1:00 PM
Coming to America: The EL Experience in the 21st Century
Presented by: Patricia A. Hennessy, Esquire, Conrad O'Brien
Since 1974 and the United States Supreme Court decision in Lau v. Nichols, public educators should understand that EL students if they cannot understand what is being taught – are not being provided with an equal education. Presenters will discuss the how and whys of true and successful implementation – equality means meaningful engagement and interventions which includes culturally responsive measures, socio-emotional supports, along with acquisition goals across all academic subjects. There will also be a discussion regarding the provision of equity with the EL population in a cyber environment. Presenters will provide participants with the legal framework which informs compliance with EL mandates including Office of Civil Rights guidances, the Equal Educational Opportunity Act, Title III, the Every Student Succeeds Act, etc. Finally, the presenters will discuss how the ever-evolving dialogue on immigration EL students and their families in terms of adverse consequences and how schools can be student-centered in terms of resources and response.
Click here to view a recording of Coming to America: The EL Experience in the 21st Century.
Thursday, Dec 10th 3:00 PM
Cyber Security Awareness Training: A Guide For Charter CEO's, Administrators, & Teachers
Presented by: Senior Account Executive, Nate Kline, Infradapt
Senior Account Executive, Nate Kline, takes a deep dive into the impact that remote learning has on the cyber security posture of the charter school community.
The first half of the presentation will cover the cyber security crisis facing Charter education. This will include a high level overview of current events, the security landscape, cyber threat actors, and more.
We will also include a comprehensive dialogue on the Dark Web and what it means to your school. Details will be provided to obtain your charter's complimentary Dark Web Analysis.
The second half of the presentation will introduce a key concept referred to as "defense in depth". This will include actionable items of a layered approach to cyber security that Charters should follow in an effort to keep their environment safe.
While this presentation could be a great tool for cyber security awareness training, it will also outline actionable items for CEO's, Business Managers, and Tech leaders to shore up their defenses in light of the recent spike in cyber-crime that has targeted the educational sector.
Click here to register for Cyber Secure Distance Learning: An Overview For CEO's, Business Managers, & Tech Leaders